金力永磁稀土行情简报2216 期(总第417 期) 0516~0520
更新時間:2022-05-23 11:19:30 回数を訪問します:441
JL MAG Rare Earth Industry Price Briefing 0 5 16 ~0 5 20
Week 20 20 22
重要新闻简报 Briefing of Important News

本周稀土市场行情,镨钕、金属钕和铽价格小幅上涨,镝铁价格较为稳定。亚洲金属网周末
价格 : 镨钕金属价格 1130~1140元/KG ;金属钕价格 1175~1185元/KG镝铁合金价格 2580~2600元/KG ;金属铽价格18600~18800元/KG 。
In the rare earth market this week, the prices of PrNd, Nd metal and Tb rose slightly while the price of DyFe was relatively stable. Prices on Asian Metal at the end of this wee k presents: PrNd metal price 1130~1140 CNY/KG; Nd metal price 1175~1185 CNY/KG; DyFe alloy price 2580~2600 CNY/KG; Tb metal price 18600~18800 CNY/KG.
2. 业内人士分析 Analysis of Professional Insiders
本周稀土市场拉涨再回落,周前期,因追涨有小部分买涨成交情况,涨幅明显集中在分离端,溢价现象在本周在产业链纵向延伸缓慢,下游小规模采购不足以支撑快速的拉涨,本周下半段,主流稀土产品轻微回调 。
This week, the rare earth market rose and then fell back. In the early part of the week, due to the chasing rise, there were a small number of buying and selling transactions. The increase was obviously concentrated at the separation end. The premium phenomenon extended slowly vertically in the i ndustry chain this week, and small scale downstream purchases were not enough to support rapid growth. In the second half of this week, the mainstream rare earth products pulled back slightly.
上下游的分化僵持导致主流产品成交区间再度拉宽,集团与大厂报价趋稳,其他厂家保持随行入市,此外,上下游对抗从上周的激化本周相对温和,中游金属端开始不断上调金属价格,下游压价虽仍旧明显,但价格接受度开始不断上移,相对来说,整体产业链在采购方面均显得谨慎,且畏高情绪在全产业链再度浓厚,包括挺价助力的分离厂在内,对原矿,油泥废料采购更为收缩克制 。 瑞道稀土资讯
The stalemate between upstream and downstream has led to the widening of the transaction range of mainstream products. The quotations of the group and major manufacturers have stabilized, and other manufacturers have continued to enter the market. In addition, the confrontation between upstream and downstream has been relatively mi ld this week from the intensification of last week. Prices, although the
downstream price reduction is still obvious, but the price acceptance has begun to move upwards. Relatively speaking, the overall industry chain is cautious in purchasing, and the fea r of heights is once again strong in the whole industry chain, including the
separation plant that is supported by the price. In China, the procurement of raw ore and sludge waste is more restrained. (Raidao Rare Earth Information)
3. 趋势图(参考亚洲金属网) Tendency Chart (refer to Asian Metal)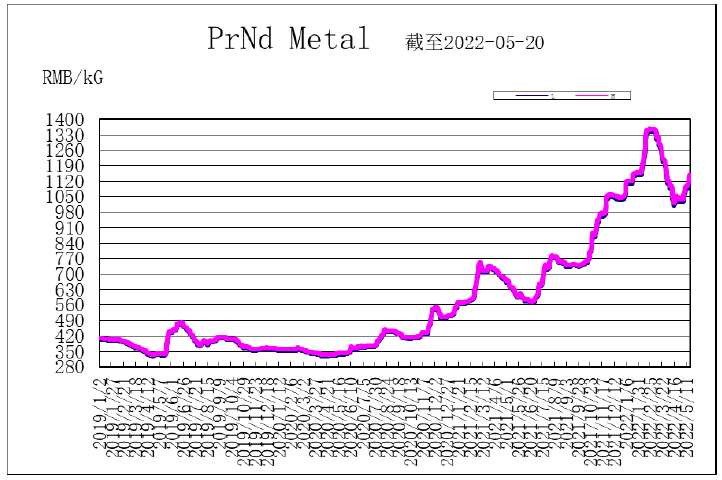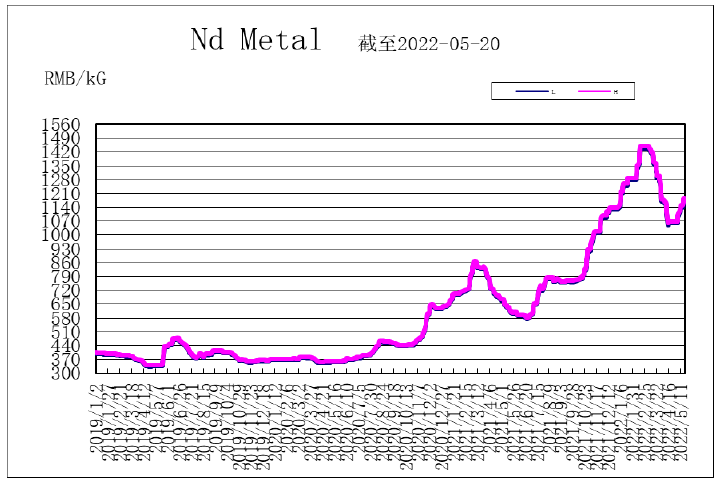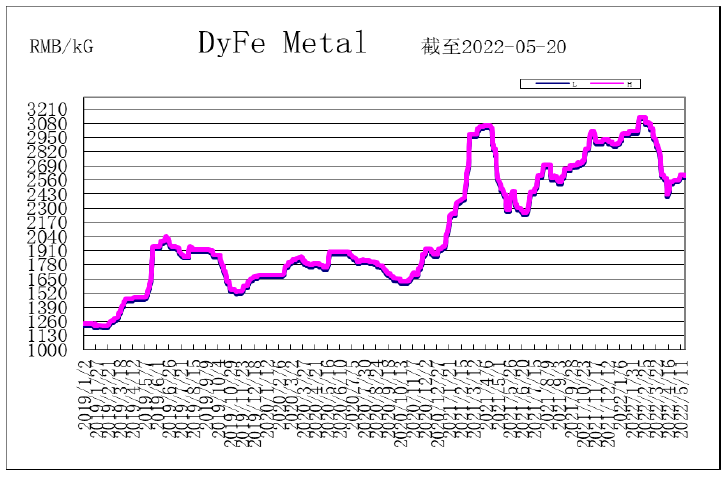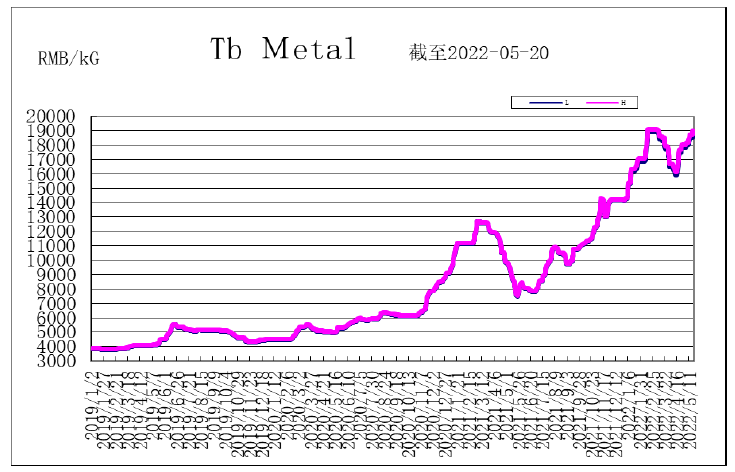 2022 年 0 5 月 20 日
May 20th , 2022
提示:以上信息仅供参考!
Notes: the information above is for reference only!