金力永磁稀土行情简报2224期(总第425期)07-18~07-22
更新時間:2022-07-25 13:51:00 回数を訪問します:328
JL MAG Rare-earth Industry Price Briefing 2224(Issue No. 425)07-18~07-22
Week 29,2022
1. 重要新闻简报Briefing of Important News
本周稀土市场行情,镨钕、金属钕和镝铁的价格小幅下降,铽的价格较为稳定。亚洲金属网周末价格: 镨钕金属价格985-995元/KG;金属钕价格1090-1100元/KG;镝铁合金价格2310-2330元/KG;金属铽价格17100-17300元/KG。
In the rare earth market this week, the prices of PrNd, Nd metal and DyFe fell slightly, while the price of Tb was relatively stable. Prices on Asian Metal at the end of this week presents: PrNd metal price 985-995 CNY/KG; Nd metal price 1,090-1,100CNY/KG; DyFe alloy price 2,310-2,330 CNY/KG; Tb metal price 17,100-17,300 CNY/KG.
2. 业内人士分析Analysis of Professional Insiders
本周稀土市场轻重走势稍有分化,轻稀土继续下探,突破北方挂牌价后,询单成交见多,价格下滑放缓;重稀土在消息面及散货趋少的局面下,稳步向前,甚至镝铽产品报价略有提升。
This week, the trend of the rare earth market was slightly differentiated. The price of light rare earth continued to drop. After breaking through the listing price of China Northern Rare Earth, the transactions of inquiries increased, and the price decline slowed down; the heavy rare earth continued to move forward steadily under the situation of news and less bulk cargo, and even the price of Dy and Tb products has increased slightly.
整体来看,本周稀土市场与上周相比,活跃及成交量均有所好转,虽然弱势氛围未改,但降价幅度微弱,且主流厂家报价表面稳定,但每日成交反馈仍有小幅阴跌,金属企业竞价和下游需求普遍平淡造成镨钕价位止跌艰难,虽周末期有趋稳迹象,但基于整体需求面难有新单及提振影响,且过往市场环境及规律,使得业内对镨钕价位继续持弱的心态不变,普遍对镨钕缓慢下跌的预判较多。(瑞道稀土资讯)
On the whole, compared with last week, the rare earth market this week is more active and the trading volume has improved. Although the weak atmosphere has not changed, the price reduction rate is weak. And the quotations of mainstream manufacturers are apparently stable, but the daily transaction feedback is still slightly negative. The price of PrNd is difficult to stop falling due to the generally sluggish bidding of metal enterprises and downstream demand. Although there are signs of stabilization in the weekend, it is difficult to have new orders and boosting effects on the overall demand side, in addition, the past market environment and laws have made industry's attitude towards the price of PrNd remain weak, and there are generally more predictions about the slow decline of PrNd. (Ruidao Rare Earth Information)
3. 趋势图(参考亚洲金属网)Tendency Chart (refer to Asian Metal)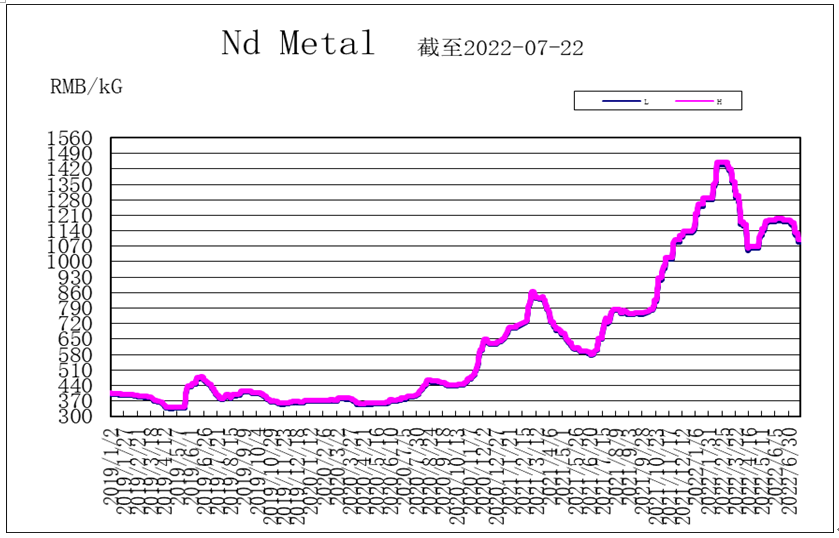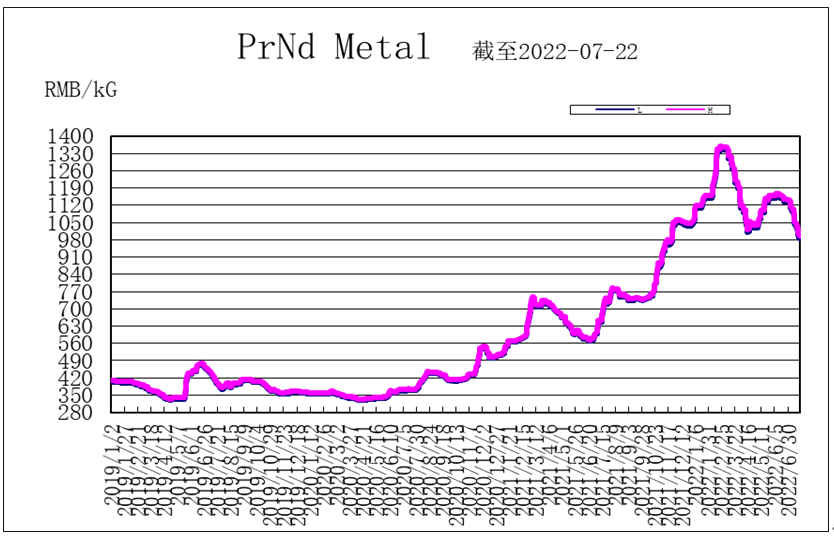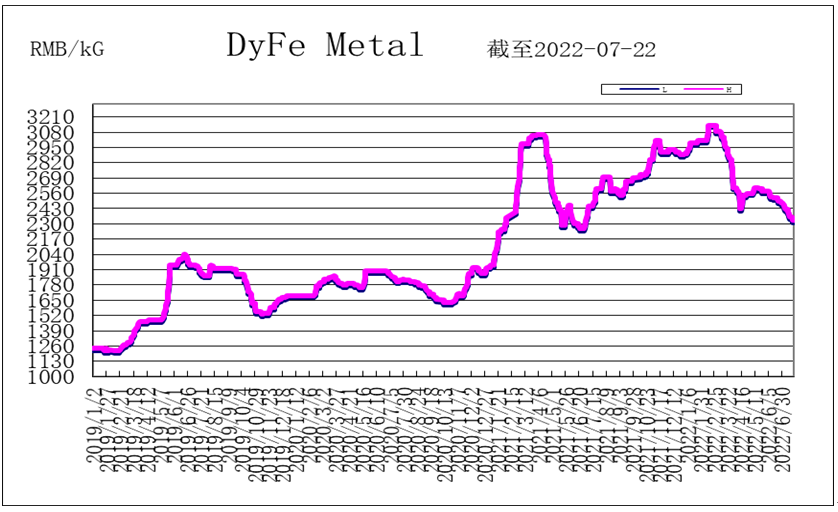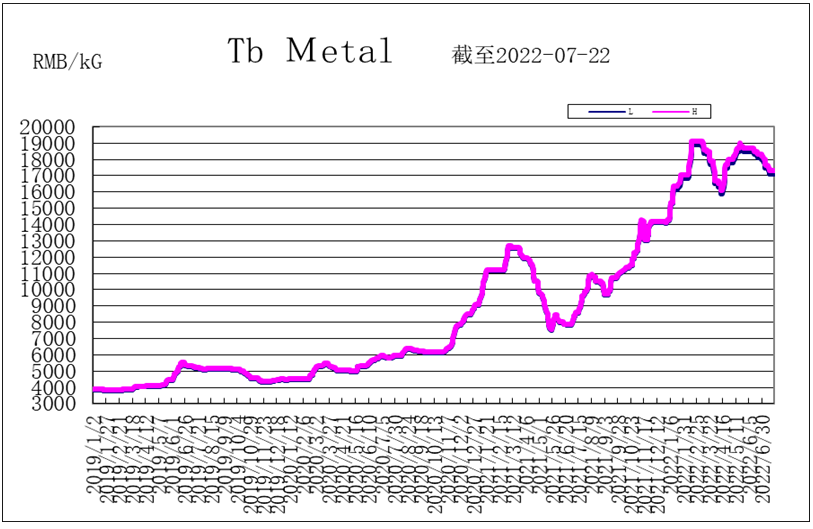 2022年07月22日
July. 22nd, 2022