JL MAG Rare-earth Industry Price Briefing 2219(Issue No. 420)06-13~06-17
UpdateTime : 2022-06-20 16:08:27 Hits : 145
JL MAG Rare-earth Industry Price Briefing 2219(Issue No. 420)06-13~06-17
Week 24,2022
1. 重要新闻简报Briefing of Important News
本周稀土市场行情,镨钕、金属钕和镝铁的价格较为稳定,铽的价格小幅下降。亚洲金属网周末价格: 镨钕金属价格1150-1160元/KG;金属钕价格1185-1195元/KG;镝铁合金价格2500-2520元/KG;金属铽价格18300-18500元/KG。
In the rare earth market this week, the prices of PrNd, Nd metal and DyFe were relatively stable, while price of Tb has decreased slightly. Prices on Asian Metal at the end of this week present: PrNd metal price 1150-1160 CNY/KG; Nd metal price 1185-1195 CNY/KG; DyFe alloy price 2500-2520 CNY/KG; Tb metal price 18300-18500 CNY/KG.
2. 业内人士分析Analysis of Professional Insiders
本周稀土市场表现不佳,其实从上周末开始,镨钕的价格就有轻微震荡,北方稀土六月挂牌价的微调,下游以观望及延后采购居多,甚至中小磁材厂由于订单不及预期而继续微量采购,上游看涨也暂时搁浅,稀土市场震荡回调暗淡蔓延。
The rare earth market has not performed well this week, In fact, the price of PrNd has a slight shock from last weekend, and the listing price of northern rare earths in June has been fine-tuned. Most of the downstream purchases are wait-and-see and delayed purchases, and even small and medium-sized magnetic material factories due to orders less than expected and continue to purchase trace, upstream bullish also temporarily stranded, rare earth market shock back dim spread.
后市判断:对于镨钕这一相对市场化的产品而言,在价格螺旋上涨的过程,不断挤压泡沫,低位成本被挤占,所以,即使回调,其过程也必然相对平缓,其不多的市场流通货源均影响回调速度,在当下供需水平下,即使阶段性的回调,空间或许也不大。镝铽,本周低位收窄高位企稳后,市场变化不大,如先前分析,在库存高度集中、寡头效应凸显下,其价格的波动相对可控。(瑞道稀土资讯)
Future market judgment: For this relatively market-oriented product of PrNd, In the process of spiraling price rise, the "bubble" is constantly squeezed and the low cost is crowded out. Therefore, even if the callback, the process must be relatively smooth, and its few market circulation sources are all affecting the speed of the callback, under the current level of supply and demand, even if staged callback, there may not be much room. For Dy and Tb, the market changed little after this week's lows narrowed and highs stabilized. As previously analyzed, the prices volatility of Dy and Tb are relatively manageable under the high concentration of inventory and oligopoly effect. (Ruidao Rare Earth Information)
3. 趋势图(参考亚洲金属网)Tendency Chart (refer to Asian Metal)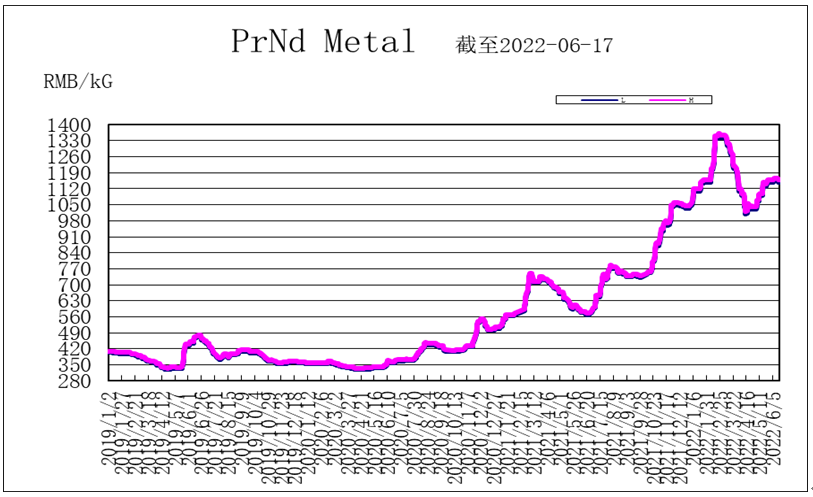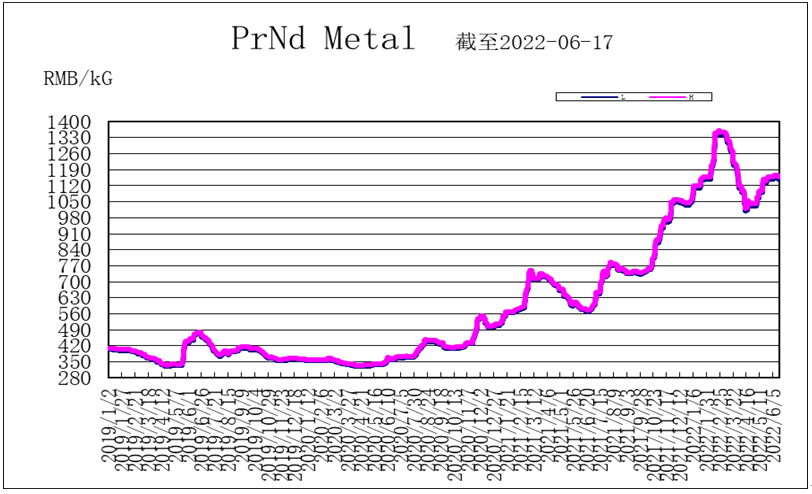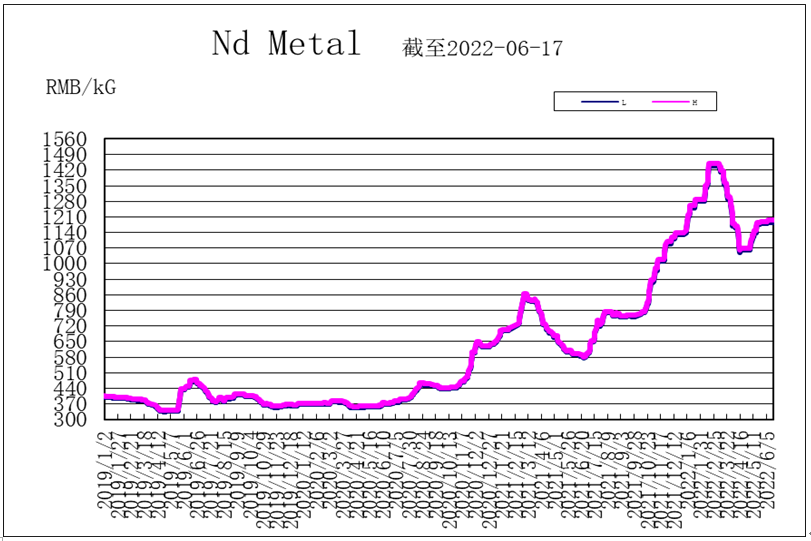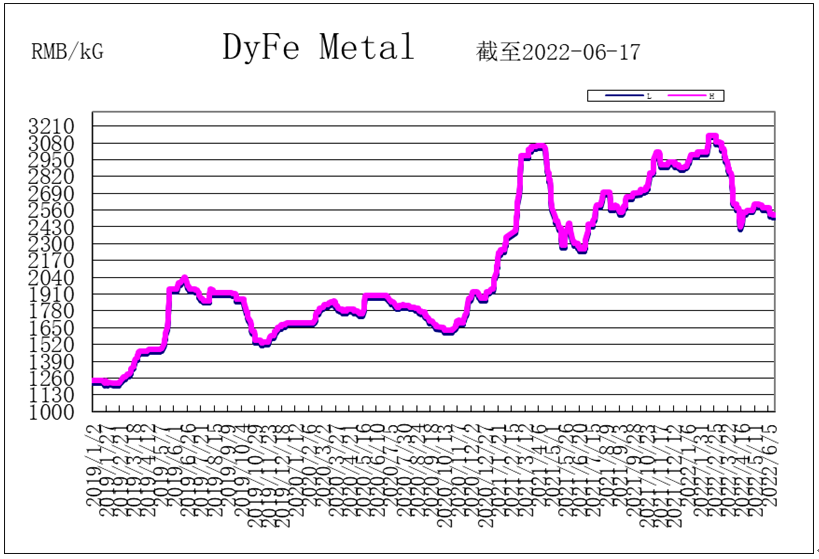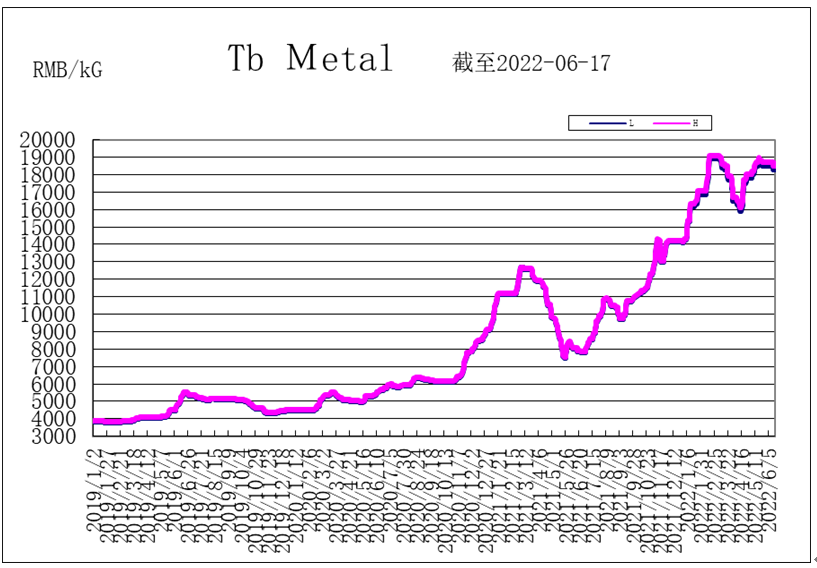 2022年06月17日
June. 17th, 2022