金力永磁稀土行情简报2218期(总第419期)06-06~06-10
更新時間:2022-06-13 19:27:00 回数を訪問します:380
JL MAG Rare-Earth Industry Price Briefing 06-06~06-10
Week 23,2022
1. 重要新闻简报Briefing of Important News
本周稀土市场行情,镨钕、金属钕和铽的价格较为稳定,镝铁价格小幅下降。亚洲金属网周末价格: 镨钕金属价格1155-1165元/KG;金属钕价格1185-1195元/KG;镝铁合金价格2510-2530元/KG;金属铽价格18500-18700元/KG。
In the rare earth market this week, the prices of PrNd, Nd metal and Tb were relatively stable, while price of DyFe has decreased slightly. Prices on Asian Metal at the end of this week present: PrNd metal price 1155-1166 CNY/KG; Nd metal price 1185-1195 CNY/KG; DyFe alloy price 2510-2530 CNY/KG; Tb metal price 18500-18700 CNY/KG.
2. 业内人士分析Analysis of Professional Insiders
本周稀土市场在等待北方挂牌价中,拉高回调至蹒跚。上探虽动力不足,但信心十足,虽下游订单跟进缓慢,但废料及氧化物货紧趋势几度上演,就此,拉涨了2个月之久的稀土价格在小量成交下,带动了整体价格的再次爬升,反复拉涨。
This week, while waiting for the northern listing price, the rare earth market price has pulled back to falter. Despite the lower motivation, the company is full of confidence. Although the downstream orders are slow to follow up, the shortage and tightening trend of scrap and oxides has been occurred several times. In this regard, the price of rare earths, which has been rising for two months, has been increased again driven by a small amount of transactions and the overall price climbed again and again.
本周镝铽成交偏少,大厂适当下调报价,且本周贸易商出货与大厂成交拉开一定差距,虽不至于割肉踩踏,但在整体需求偏弱,尤其是高性能钕铁硼订单增量偏少的情况下,镝铽的需求短期内难看到缓解,就性价比与用量而言,镝铽较镨钕仍有调整的可能。(瑞道稀土资讯)
This week, the transactions of dysprosium and terbium were relatively low and major manufacturers lowered their quotations appropriately. There was a certain gap between the shipments of traders and the transactions of major manufacturers this week. Although it will not leads to wild fluctuation, the overall demand is weak, especially the increase of orders for high-performance NdFeB is limited. The demand for dysprosium and terbium is difficult to ease in the short term, but in terms of cost performance and usage, the price will most likely to be adjusted compare to PrNd. (Ruidao Rare Earth Information)
北方稀土高科技股份有限公司发布

6

月稀土产品挂牌价格
Northern Rare Earth High-Tech Co., Ltd. released the listing price of rare earth products in June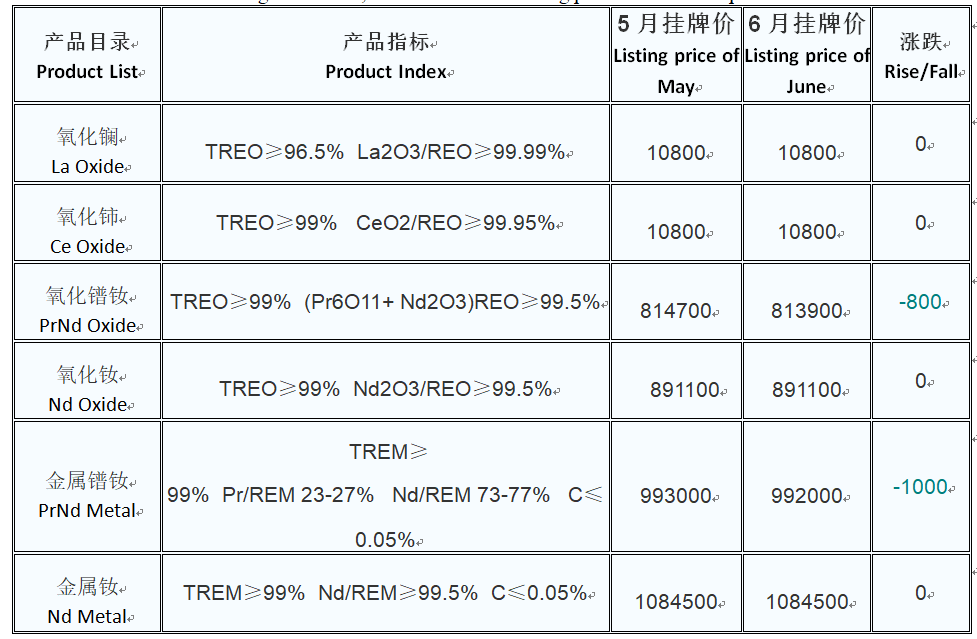 3. 趋势图(参考亚洲金属网)Tendency Chart (refer to Asian Metal)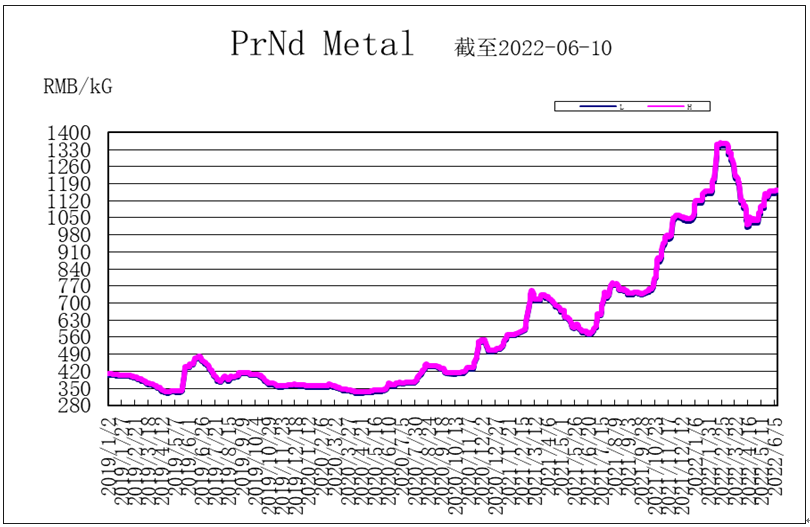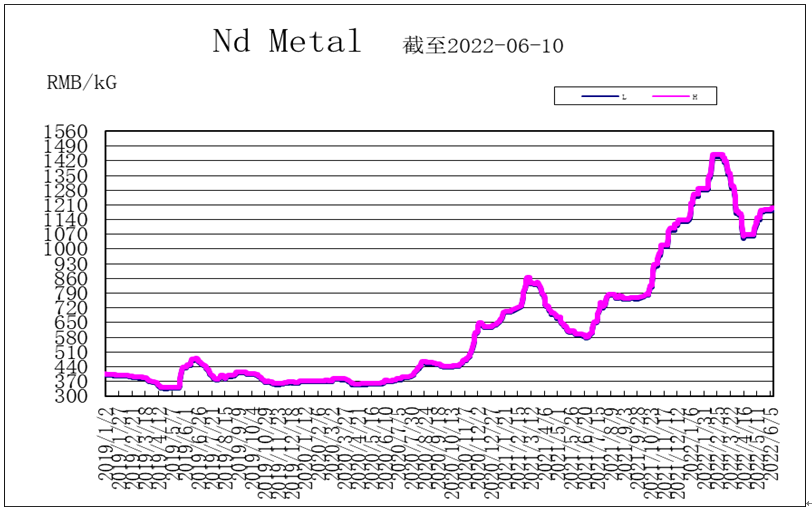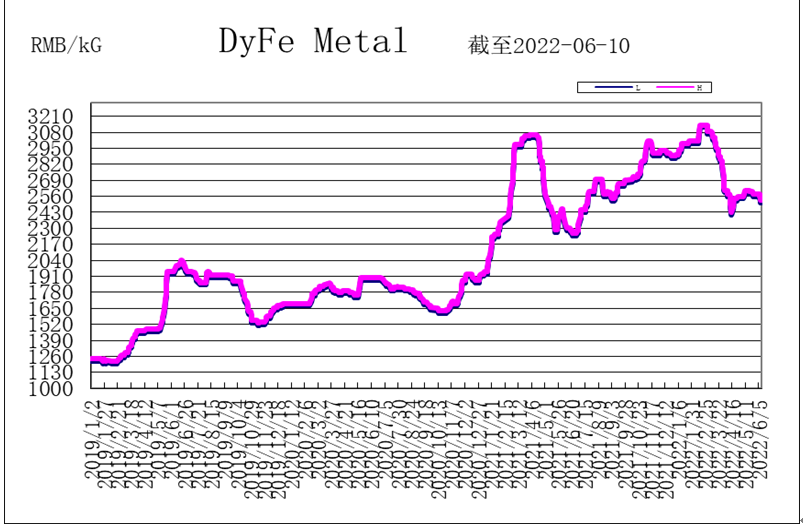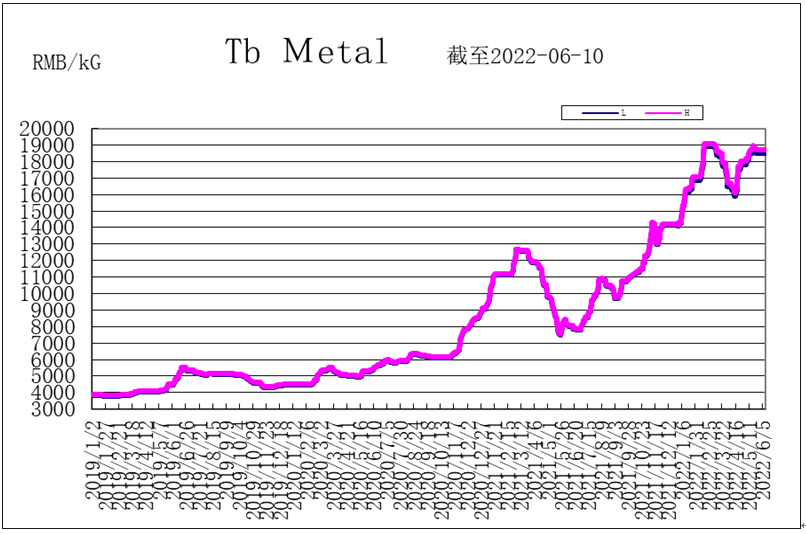 2022年06月10日
June 10th, 2022
提示:以上信息仅供参考!
Notes: the information above is for reference only!