金力永磁稀土行情简报2220期(总第421期)06-20~06-24
更新時間:2022-06-27 18:18:00 回数を訪問します:345
JL MAG Rare-Earth Industry Price Briefing 06-20~06-24
Week 25,2022
1. 重要新闻简报Briefing of Important News
本周稀土市场行情,镨钕、金属钕、铽和镝铁的价格小幅下降。亚洲金属网周末价格: 镨钕金属价格1135-1145元/KG;金属钕价格1180-1190元/KG;镝铁合金价格2470-2490元/KG;金属铽价格18100-18300元/KG。
This week, prices of PrNd, Nd metal,Tb anf DyFe dropped slightly.Prices from Asian Metal at this weekend presented: PrNd metal 1,135-1,145 CNY/KG; Nd metal 1,180-1,190 CNY/KG; DyFe alloy 2,470-2,490 CNY/KG; and Tb metal 18,100-18,300 CNY/KG.
2. 业内人士分析Analysis of Professional Insiders
自6月9日北方挂牌价后,稀土价格开始出现明显下调,至本周(6月20-6月24日,下同)稀土市场依旧偏弱,询单与报价双弱,整体市场陷入部分恐慌,虽供应面偏紧,但低价散货确实充斥市场拉低价格走向,从废料到氧化物到金属价格均有弱回调。
Since the listing price on June 9 of Northern rare earth, the price of rare earth has begun to decline significantly. As of this week (June 20-June 24, the same below), the rare earth market is still weak, both in inquiries and quotations, and the overall market has fallen into a partial panic. Although the supply side is tight, low-priced bulk cargoes have indeed flooded the market and dragged down the price trend, and prices from scrap to oxides and even to metals have experienced weak corrections.
后市判断:从大环境来看,镨钕金属采购热度短期难以扭转,当然,磁材企业的原料库存普遍不高,但无论从成本亦或是流通现货来看,镨钕回调的空间不大,弱势或会相对缓和。重稀土继续走弱的因素虽依旧存在,但高位给企业带来的订单压力或会促使其在当下价位下缓慢消耗,价格走势也将缓和。(瑞道稀土资讯)
Market outlook judgment: From the perspective of the general environment, the purchase of PrNd metal is difficult to reverse in the short term. Of course, the raw material inventory of magnetic material companies is generally not high, but no matter from the cost or the current spot situation, there is not much room for PrNd to adjust. Weakness may be relatively moderate. Although the factors for the continued weakening of heavy rare earths still exist, the order pressure brought by the high level to enterprises may cause them to slowly consume at the current price, and the price trend will also ease. (Ruidao Rare Earth Information)
3. 趋势图(参考亚洲金属网)Tendency Chart (refer to Asian Metal)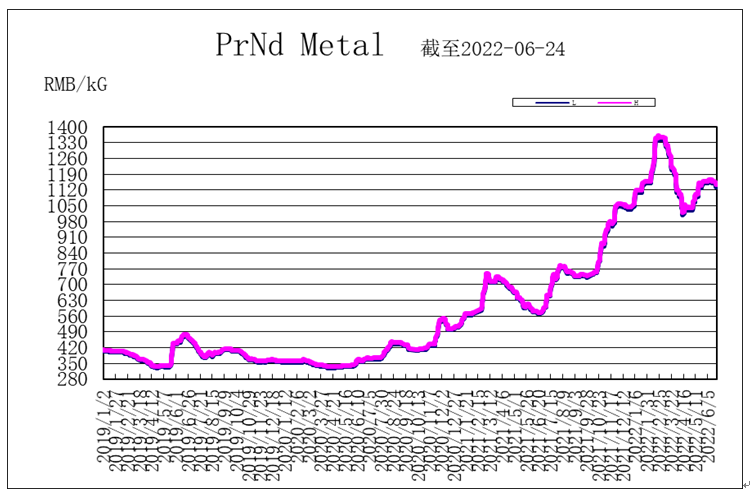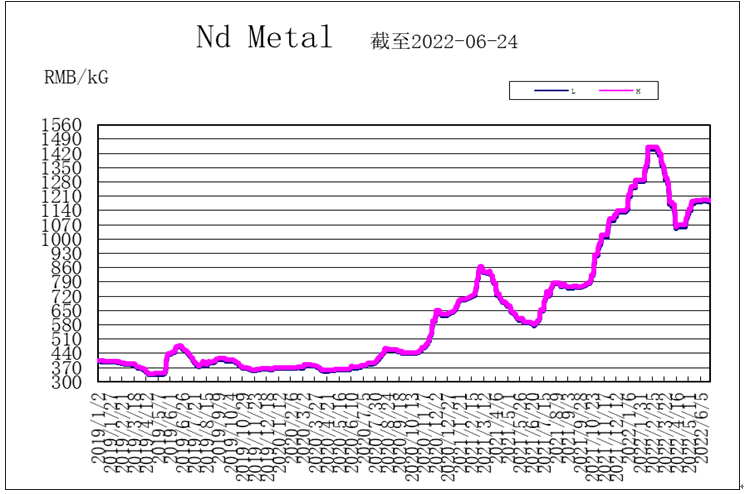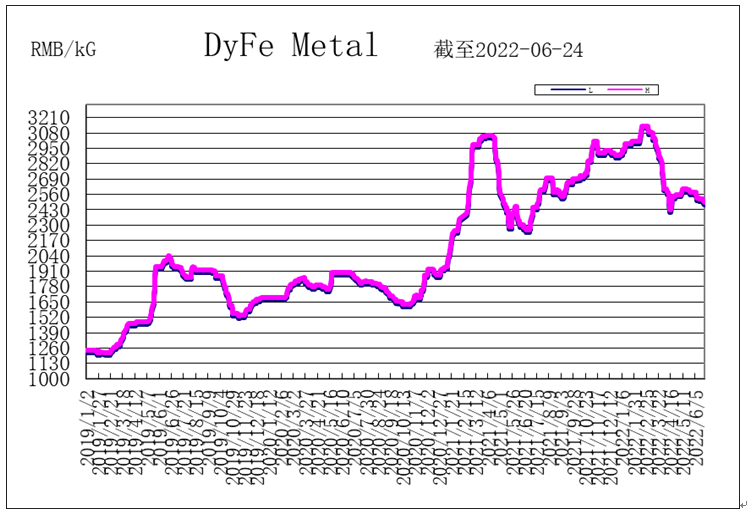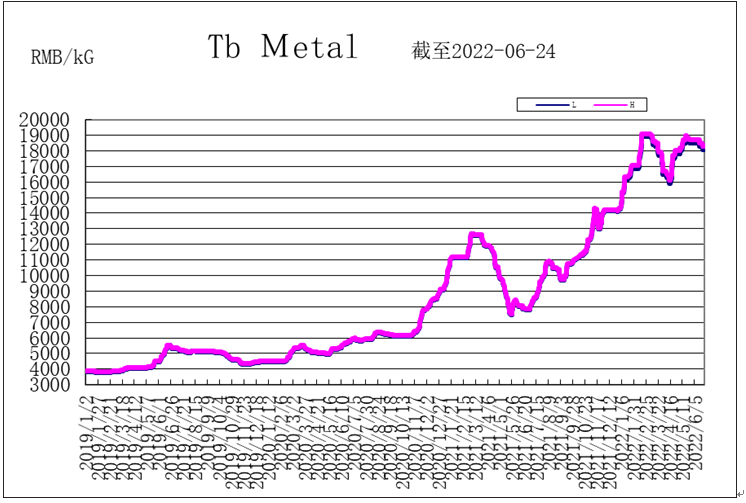 2022年06月24日

June 24th, 2022
提示:以上信息仅供参考!
Notes: the information above is for reference only!