金力永磁稀土行情简报2222期(总第423期)07-04~07-08
更新時間:2022-07-11 09:07:00 回数を訪問します:209
JL MAG Rare-earth Industry Price Briefing 2222(Issue No. 423)07-04~07-08
Week 27,2022
1. 重要新闻简报Briefing of Important News
本周稀土市场行情,镨钕、金属钕、铽和镝铁的价格小幅下降。亚洲金属网周末价格: 镨钕金属价格1095-1105元/KG;金属钕价格1165-1175元/KG;镝铁合金价格2400-2420元/KG;金属铽价格17450-17650元/KG。
In the rare earth market this week, the prices of PrNd, Nd metal, Tb and DyFe fell slightly. Prices from Asian Metal at this weekend presented: PrNd metal 1,095-1,105 CNY/KG; Nd metal 1,165-1,175 CNY/KG; DyFe alloy 2,400-2,420 CNY/KG; and Tb metal 17,450-17,650 CNY/KG.
2. 业内人士分析Analysis of Professional Insiders
本周稀土市场轻重产品均呈现下滑走势,且轻稀土下滑速度较快。欧美主要经济体下半年陷入经济滞涨的概率比较明显,出口订单明显遭遇收缩迹象,而上游供给虽同有减少,但与需求的弱化程度相比,似乎仍有剩余,整体上游在本周悲观情绪加重,轻重稀土均陷入较明显的竞价变现局面。
This week, both light and heavy products in the rare earth market showed a downward trend, and light rare earths declined rapidly. The probability of major economies in Europe and the US falling into economic stagnation in the second half of the year is relatively obvious, and export orders are clearly experiencing signs of contraction. Although upstream supply has decreased, compared with the weakening of demand, it seems that there is still a surplus. The overall upstream is pessimistic this week and both light and heavy rare earths fell into a more obvious situation of auction realization.
镨钕产品延续了上周的回落走势,随着多方撤力,需求及看弱的预期,在竞价压力的驱使下,上游企业下调速度明显加快,市场的主动权在买方,且受"买涨不买跌"心里影响,成交价位一再创低。
PrNd products continued the downward trend last week. With the withdrawal of forces from many parties, demand and weak expectations, driven by the pressure of bidding, the downward adjustment speed has accelerated significantly. The initiative of the market lies with the buyer and influenced by the attitude of running after rising and falling, the transaction price has repeatedly hit a low position.
重稀土方面,分离企业对离子矿的采购保持观望,在供需相抵中重稀土缺乏拉涨动力,而镝铽因货源相对集中,价格回调的幅度或比镨钕要平缓,赣矿的重启,一方面或会减少对进口矿的依赖,但另一方面,开采成本的支撑及利润或会使镝铽价格降幅空间不大。(瑞道稀土资讯)
In terms of heavy rare earths, separation companies are keeping a wait-and-see approach to the purchase of ion ore. In the balance between supply and demand, heavy rare earths is lack of the driving force to increase. However, due to the relatively concentrated supply of Dy and Tb, the price call-back is more gentler than PrNd. On the one hand, it may reduce the dependence on imported mines due to the restart of mine in Ganzhou area, but on the other hand, the support and profit of mining costs may leads to quite small decrease room for the price of Dy/Tb. (Ruidao Rare Earth Information)
3. 趋势图(参考亚洲金属网)Tendency Chart (refer to Asian Metal)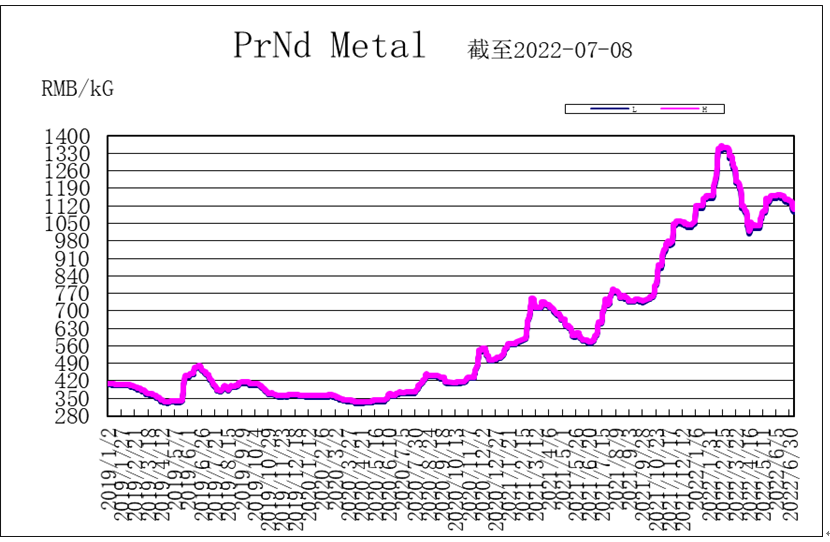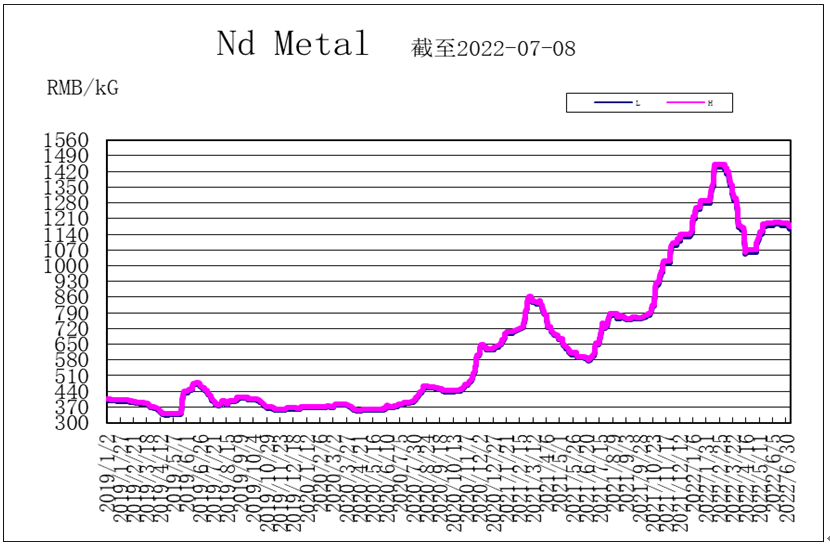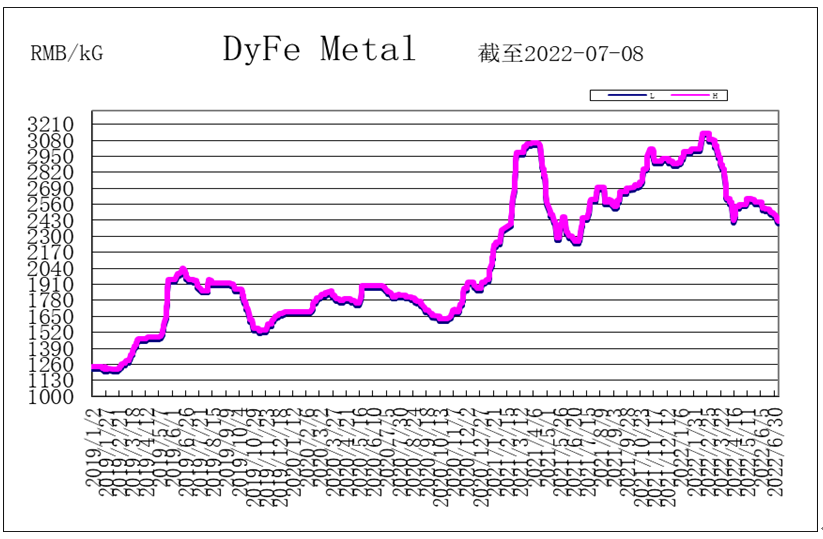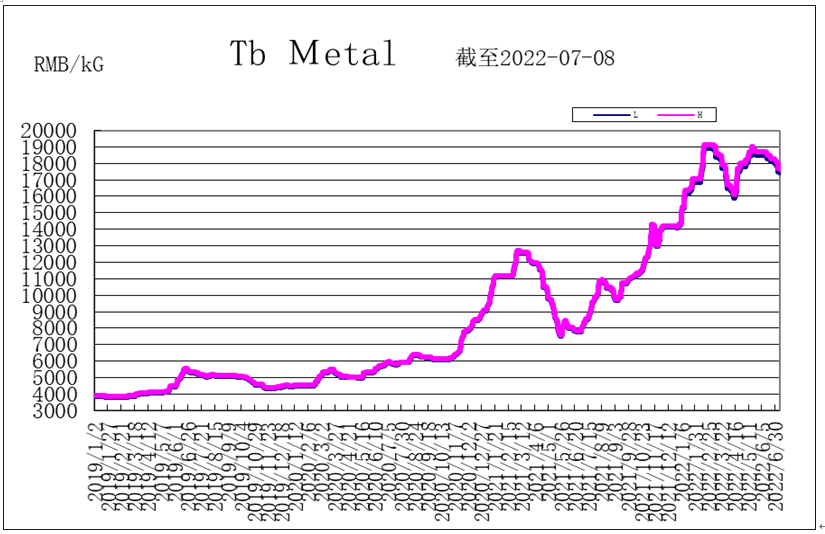 2022年07月08日
July. 08th, 2022