金力永磁稀土行情简报2221期(总第422期)06-27~07-01
更新時間:2022-07-04 09:03:00 回数を訪問します:335
JL MAG Rare-earth Industry Price Briefing 2221(Issue No. 422)06-27~07-01
Week 26,2022
1. 重要新闻简报Briefing of Important News
本周稀土市场行情,镨钕、铽和镝铁的价格小幅下降,金属钕价格较为稳定。亚洲金属网周末价格: 镨钕金属价格1130-1140元/KG;金属钕价格1180-1190元/KG;镝铁合金价格2460-2480元/KG;金属铽价格18000-18200元/KG。
This week, prices of PrNd, Tb and DyFe dropped slightly. Nd metal keeps stable relatively. Prices from Asian Metal at this weekend presented: PrNd metal 1,130-1,140 CNY/KG; Nd metal 1,180-1,190 CNY/KG; DyFe alloy 2,460-2,480 CNY/KG; and Tb metal 18,000-18,200 CNY/KG.
2. 业内人士分析Analysis of Professional Insiders
本周市场延续下滑走势,上游中小企业竞相出货,期货成交价格不断走低,而下游订单收缩采购克制,主流看跌情绪影响稀土走势暂无止跌迹象。
The market continued its downward trend this week. Upstream small and medium-sized enterprises competed for shipments. Futures transaction prices continued to decline. Downstream orders contracted and purchase restraint. The mainstream bearish sentiment affected the trend of rare earths.
稀土主流产品本周伊始,有拉涨气氛,但成交僵持下,价格走势偏乱,低位成交信息频繁,镨钕受其影响尤为敏感,相对冷清的成交量其重心不断向低位靠拢,而基于需求普遍低迷的共识,贸易商首选出清库存,部分工厂一直稳价,虽然明面报价相对滞后稍显稳定,但也仍在适度让价掩护出货。
At the beginning of this week, the mainstream rare earth products have a rising atmosphere, but under the stalemate of transactions, the price trend is erratic, and the low-level transaction information is frequent, and praseodymium and neodymium are particularly sensitive to its influence. There is a generally sluggish consensus that traders prefer to clear their inventories, and some factories have been stabilizing their prices. Although the open quotations are relatively lagging behind and slightly stable, they are still moderately making price concessions to cover shipments.
虽然稀土成交价位本周不停走低,但业内心态较为敏感微妙。一方面,经过四月低位备货的磁材及贸易商,库存基本用尽,当下低成本社会库存不多;另一方面,轻重稀土原矿及油泥废料价位相比氧化物下调缓慢,稀土各系产品理论成本相比此前低位时降幅不大,第三,除镝产品接近四月低位后,其余各系产品降幅仍与四月低位存有空间。(瑞道稀土资讯)
Although the rare earth transaction price kept falling this week, the mentality of the industry is more sensitive and subtle. On the one hand, the magnetic materials and traders who stocked at a low level in April had mainly run out of stock, and the current low-cost social stock is not much; The theoretical cost is not much lower than the previous low level. Third, except for dysprosium products that are close to the low level in April, there is still much room for the decline of the rest of the products to be lower than the low level in April. (Ruidao Rare Earth Information)
3. 趋势图(参考亚洲金属网)Tendency Chart (refer to Asian Metal)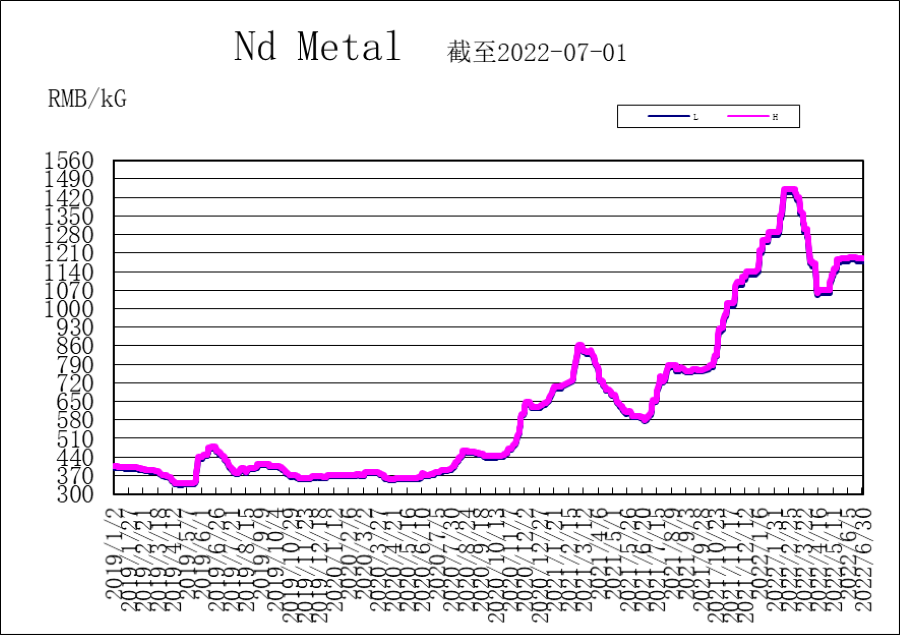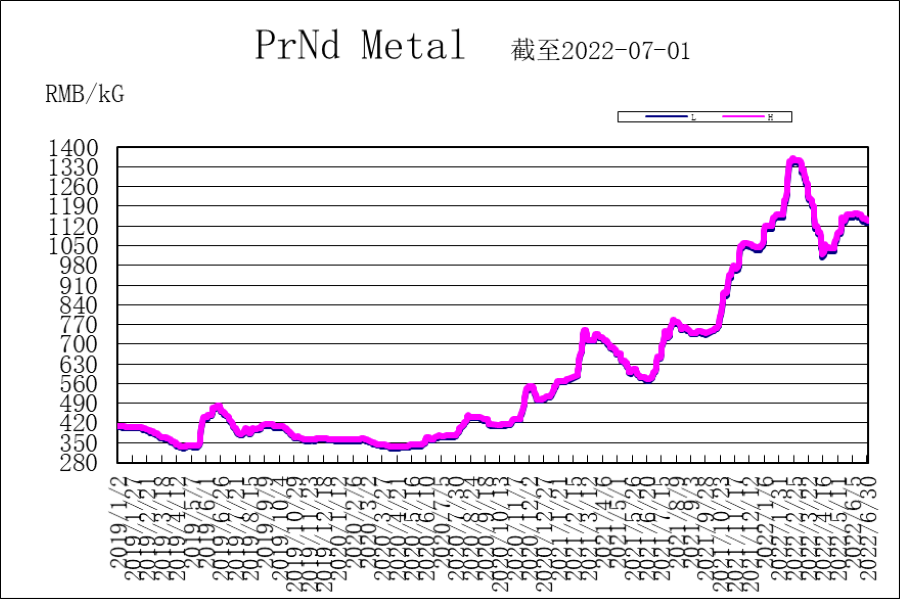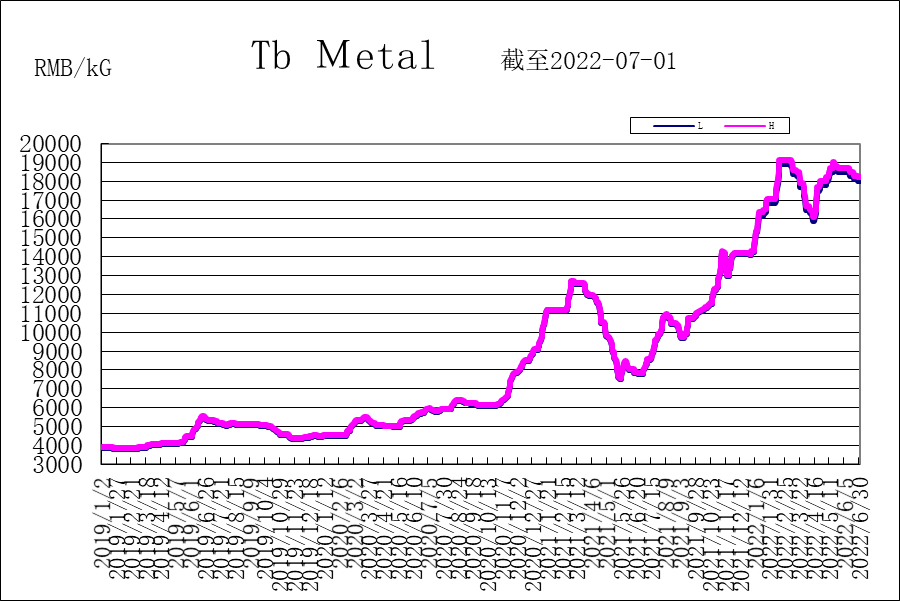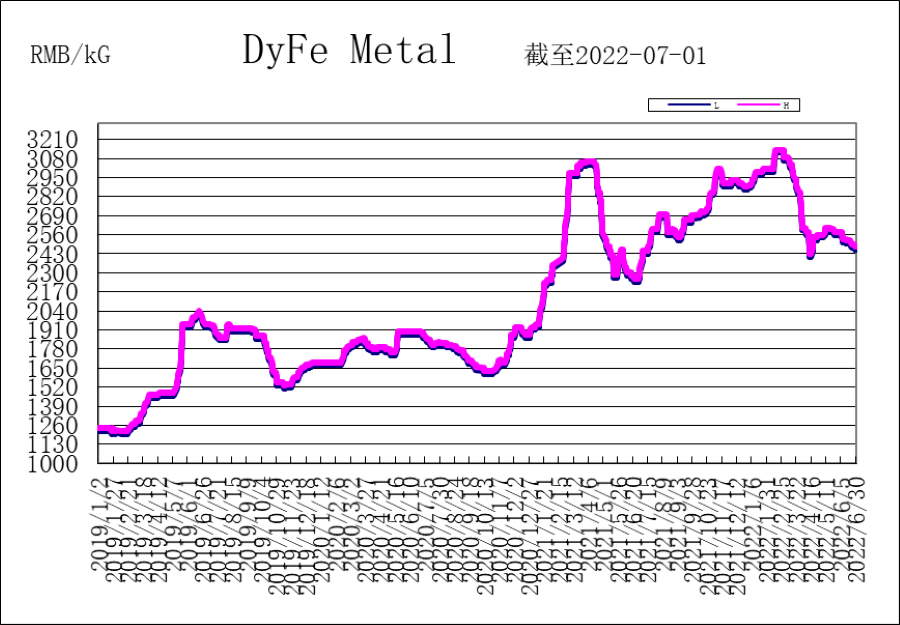 2022年07月01日
July. 01st, 2022